A New Communication for Art
Aleksandra Yevteyeva
June 14, 2011
Filed under Arts & Entertainment, Features
Cezanne would stare upon his subjects for hours, transfixed in an ephemeral kind of meditation until essentially an ingenious vision would emerge. Anju Dodiya, artist of our current era, emulates Cezanne's tenacity and focus in her unique productions, particularly in her 'Throne of Frost' exhibition as featured at the Lukshmi Villas Palace, Baroda and the Bodhi Art Gallery, Mumbai.
In India, Anju Dodiya instilled her site-specific installation 'Throne of Frost,' inclusive of intricate tapestries, charcoal drawings, watercolors on paper, amidst a space carpeted with a lively array of shard glass. Provoking interest in its intriguing construction, the shard glass laid in such a way that it restricted a viewer from addressing any particular part of the work directly, and simultaneously kept the viewer at certain position and proximity to the installation's inherent location.
Throne of Frost, 2007, Bodhi Art Gallery, Mumbai
(www.archives.digitaltoday)
Intrinsically, the progressive pace of the world has propelled the society of artists to present new genres and new methodical asserting platforms for communicating art in their visionary endeavors.
(www.4bp.blogspot.com)
Admittedly, the concept of 'installation' is a fairly recent invention in the Art world, and has permeated among society being coined as "project art," and "temporary art," by various groups. The term 'Environment,' coincides as a counterpart to installations, while being inclusive of an individual's whole sensory reception of the material.
Structurally, installations have been represented by various mediums as accordingly incorporated by the artists. At times installations are manifested utilizing an assortment of random organic items such as thread, sticks, paint, and anything else the artists deems acceptable as pertaining to his/her vision.
(www.supertightstuff.com)
As featured, Multiverse is the grandest in scale and most inherently complex light sculpture-exhibition that has premiered around the world, marking the frolicking streets of Paris in 2009, and currently encased within a 200-foot-long tunnel in the National Gallery of Art in Washington D.C.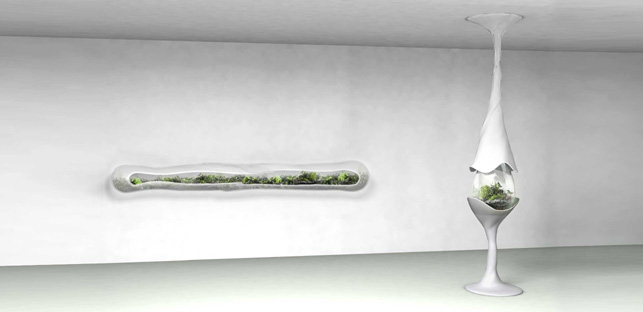 (www.moma.org)
Within the local region, MoMA, the Museum of Modern Art in New York City currently houses In the Bathysphere by Artist Paula Hayes. Intriguingly, Hayes inserted the essentially organic installation within the long west wall of the Museum, relating to the space directly, "a place of meeting and anticipation—of being fertilized by art." Upon my initial visit to MoMA, I was struck by the sheer ironical essence within the green and white installation that seemed to present a photograph in a biological sense of its surrounding environment, while simultaneously instilling a permeating presence of calm and a simple philosophical statement of harmony, growth, culture, and progressive evolvement for all.